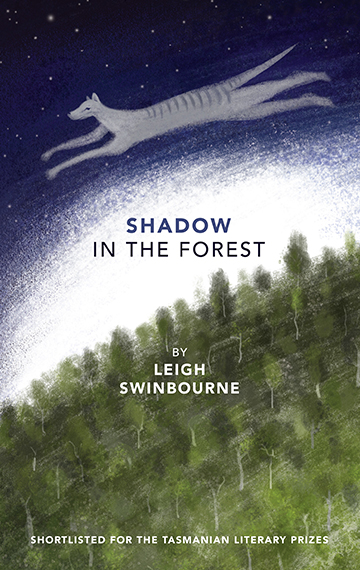 Available in:

Paperback and Kindle

ISBN:

978 1 76041 781 9
Buy Book
Publisher: Ginninderra Press
Published by Ginninderra Press in 2019.
Shadow in the Forest can best be described as a psychological thriller. In brief, it follows the inner and outer journeys of an idealistic young zoologist, Evelyn Carter, who travels to the Tasmanian wilderness as part of a study to help evaluate the impact of tourism on specific wilderness areas, in her case, the Walls of Jerusalem.
The story is set in the 1980's following the successful actions which saved the Franklin River and it references some important movements and moods of the time, such as the influence of growing environmentalism and feminism. Isolated in the wilderness, Evelyn sights and eventually befriends an animal which she believes to be the extinct 'mythical' Tasmanian Tiger. Gradually she becomes obsessed with the beast and the various potential issues arising from her 'discovery'. A peculiar psychosexual 'love affair' builds between woman and animal, leading eventually to a heart-breaking outcome. On the sidelines is a friendly 'greenie', Graeme, also part of the project, who fancies Evelyn and is concerned and watching out for her.
Ethical zoological, personal and environmental issues are tied in with the examination of a mind descending into madness.
Read an excerpt of Shadow in the Forest
shadow